Testimonials
Very professional, helpful and knowledgeable about the many hurdles and hoops we had to jump over and through . Thank you Tammy & Team.
Tim Brown Sale & Purchase 2019
I highly recommend using Tammy as your realtor, she was always available to answer our questions and work with us providing whatever we needed. She made selling and buying our homes less stressful because we knew we were getting the best representation and advice possible.
Randy Koska Sale & Purchase 2019

I live in Calgary and needed to sell a property in Edmonton. Tammy was excellent to deal with. She is very personable with a strong work ethic. With the great assistance and support provided with the listing my property sold.
Anncarole Smith Sale 2019
After having my property listed on a self serve realty site for over 9 months and having little success. We decided to list our property with 2 percent realty. Tammy was highly recommended by many of her clients. We called her and she came to meet us in Spruce Grove. She is not a high pressure sales agent. She told us that the market was depressed and may take longer to sell. She was very knowledgeable and left us with information to review. My wife and I decided to take the house off the market for a couple months and relist it when the market is more active in order to generate more interest. We called Tammy to list it with her brokerage. She was right, we started to have more viewings and we finally received an offer several weeks later. I would recommend hiring Tammy and her team to list your property.
Brad Turner Sale 2019
Highly recommend Tammy! Easy to deal with, professional, prompt, answered all my questions, and most importantly got my house sold quickly!
I'll be telling any friends or family needing a realtor to look up Tammy.
Mark Thompson Sale 2019
I was new to 2% Realty but can say now that I am extremely impressed with this company based on the wonderful customer service provided by Tammy and her team. During the sale of my property and the purchase of another, I was able to rely on Tammy's superlative level of real estate knowledge in a wide range of aspects including understanding the market, competitive pricing, the condition of properties I was interested in viewing, and negotiating to get me the best deal possible. Tammy and her team were always extremely professional but also patient and focused on assisting me in meeting my real estate needs. I would highly recommend her to anyone seeking an amazing realtor!
Sheri Anderson Sale & Purchase 2019
I cannot recommend Tammy enough. For two years she worked with my family. We looked at over 50 homes. Tammy was patient and diligent. I do not know how she was able to manage the things she did; from getting us into homes that were not open to the public yet, to accommodating our busy schedules, she was great with our young kids and teenage daughters. It was such a pleasure working with Tammy. If we need any real estate needs in the future she is the only realtor I will use.
Youssra Badr Purchase 2019
Tammy & Jessica ares fantastic to work with! I recommend her to anyone I know looking for realtor services. My husband and I recently just purchased our first home with her team and found the process less stressful than we anticipated due to her experience. Tammy is very upfront and straightforward, answers all questions you may have and definitely does her best to please her clients.
Karlee Lacoste Purchase 2019
I highly recommend Tammy as a realtor. She is thorough, tenacious, honest and diligent. She helped us sell our home for 97% of our listing price, and helped us to understand the housing market as first time sellers. She walked us through every piece of paperwork and was available whenever we needed her. Thank you Tammy for all of your guidance and support.
Natalia Rohatyn Sale & Purchase 2019
Tammy went above and beyond helping us sell our house. She was patient with our listing and the roadblocks with getting it on the market and sold. She communicated with us often which got the house sold and she helped get the best price when we were negotiating. I highly recommend Tammy Booth.
Carla Papp Sale 2019
Highly recommend Tammy as a realtor, would give her more stars if there were more. She will treat you as a person not a number, she will answer any question you have, and she knows her stuff, and works hard for your best interest.
Don Antoniuk Sale 2019
Attention to detail, very personable and compassionate. Highly recommend.
Michael Staley Sale 2019
Tammy has always been amazing with her clients. She is extremely intelligent and knowledgeable and makes the process seamless so her clients are at ease. I have been working with Tammy for over 5 years and I know when I refer my clients to her they are in good hands. I highly recommend using Tammy for your real estate needs.
Envolve Mortgage Group Cheri Kucy

Tammy was an absolute pleasure to work with! She is professional and her advise was priceless. Very knowledgeable and prompt. Tammy thank you for everything! You will be my realtor going forward and I will highly recommend you to others.
Rhonda Sargent Sale 2018

Tammy has been fantastic in selling my house when I was going through a difficult situation in life. Her compassion and understanding helped make this transaction easier. She was straight and upfront from the beginning and worked with me when I needed help. No BSing. I thoroughly recommend her to anyone looking to sell or buy their home.
Andra Turcanu - Sale 2018

While I was attracted initially to 2% Realty Pro because of the 2% commission, but was further impressed with Tammy's professional approach. Tammy has a strong understanding of the marketplace. Her advice ​on how to price ​the home was knowledge based but also sensitive to the attachment we still had for the home that had been in my parents' life for 50 years. Because of ​Tammy's thorough work and sage advice, the home sold in a very reasonable time period and at a price that was fair ​in the marketplace. I have already recommended Tammy to friends. making the recommendation was a pleasure. Tammy's commitment to us and advise was flawless! Thank you Tammy.
Michael O'Hara Edmonton Sale Summer 2017

​"​You and your teams confidence and personality showed us we could count on you. Tammy and Jessica communicated honestly and effectively and sold our home saving us thousands in commission. I have had people talk to me about using your services and I tell them all the same thing, Tammy and her team provide great service and will get a good dollar for your property, and save you money! I will use your services again with no question.​"​
Marc Vibbert Fort Saskatchewan Sale & Purchase
​Summer ​
2017
We are very glad we worked with Tammy for the purchase of our home. Tammy is a skilled negotiator and confidently secured a great price on our home purchase, saving us thousands of dollars. Tammy was patient as we took our time looking at multiple listings to find the right property. We would not hesitate to recommend Tammy, and we plan on working with her again when we sell our current home.
Nancy & Nathaniel Welsh - Buyers
Tammy Booth & 2% Realty Pro made selling our first house quick and easy. I was referred to Tammy after my Mother In Law sold her house a few years ago. Tammy met with us and explainged the selling process and her full service. She made great suggestions on what to do to sell our house and we followed her direction. Our house sold after the second showing and im absolutely sure it was based on how well prepared our house was after her advice. She's knowledgable and current on trends and the market. I would proudly recommend Tammy to anyone looking for a friendly, efficient, hassle free, experienced realtor! In the end using 2% saved us money on realtor commissions and did not change the quality or integrity of the service.
Robyn & Marvin Hinds - Sellers
"My wife and I started with Tammy @ 2% Realty Pro based on a friends experience with her and were very happy with our own. We listed our current home and found our "forever home" with Tammy. Tammy was true to the slogan off 100% service! Always accessible, knowledgeable, professional, Our house sold in just 6 days. Listing with 2% Realty Pro meant we did not have to compensate for accelerated commission, which allowed us to price more aggressively without sacrificing our bottom line. Tammy's hard work and diligence produced us our DREAM HOME! We would recommend Tammy to anyone, anytime. My wife and I have no plans of moving from our Dream Home but if we do we know we will be calling Tammy and her 2% team."
Michael & Gail Parkhill - Sellers/Buyers
"We had noticed 2% Realty signs in our area on a few houses and were curious as to what 2% Realty was all about. Like most people we are always looking to get a good deal and great service so when the time came to list our house we wanted to give 2% Realty a try. We went to the website and looked through the realtors. Tammy your profile stood out to us as someone with the experience and know how to get the job done for us.
You were excellent to work with. You answered our questions and gave us the facts and your advice, most importantly you listened to us and our goals. With those goals in mind we moved forward. Once we had an offer you were able to give us very sound advice and your expert negotiating skills helped us meet our goal. The entire process has gone very smoothly and we have been extremely satisfied with the service you have provided."
-2633 Anderson Cr – Todd & Tracy Peters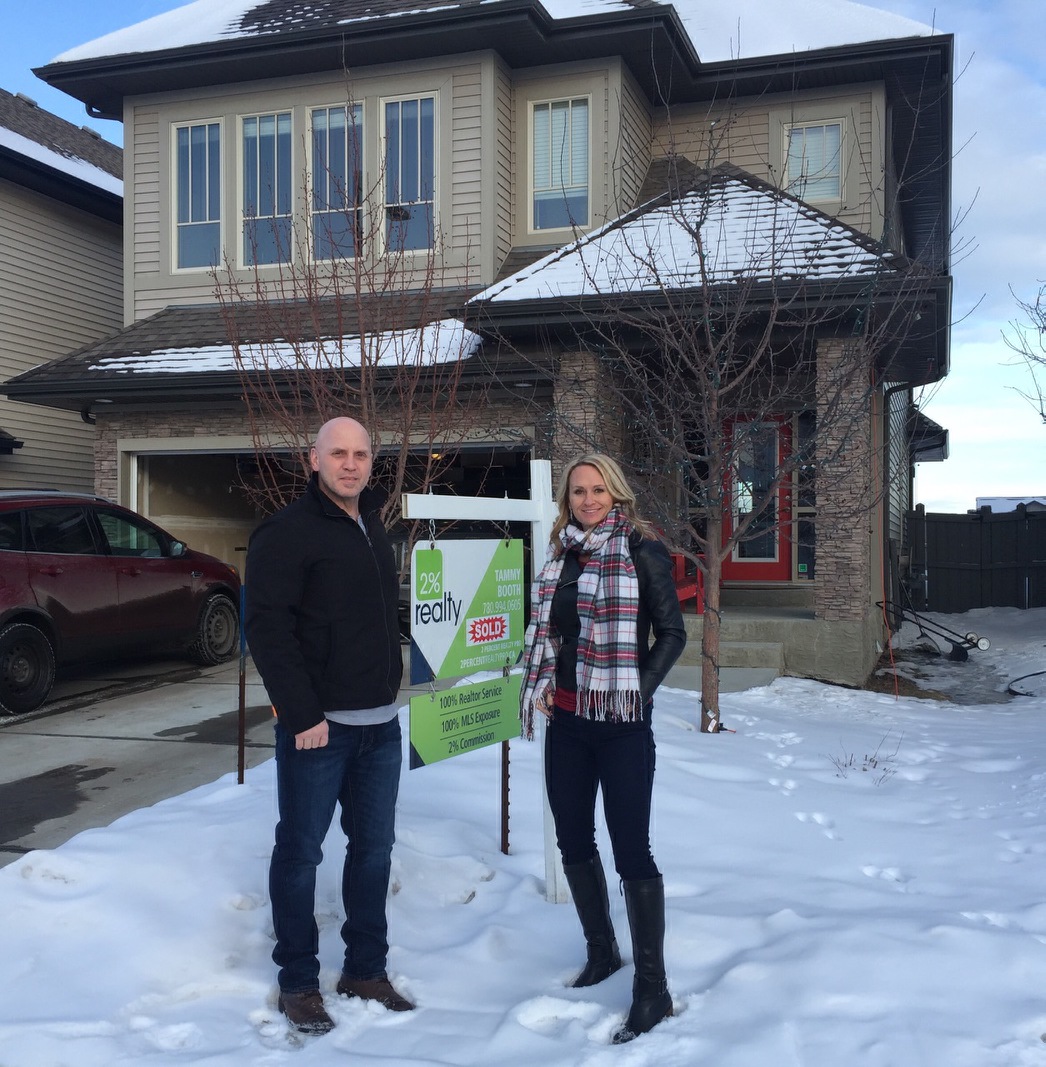 "Tammy delivered in selling our home and did so in an expedient and hassle free manner. I would recommend Tammy as she is no-nonsense and is forthright in telling us what her thoughts are and what her professional opinion is. Ultimately she gets results and is professional and thoughtful in her approach to selling."
Kristen Hafener (Edmonton)- Seller
" Simply put Tammy is effective at what she does! She creates a good rapport in her willingness to not only listen to the needs of a client but to provide valuable insight as to what needs to happen to sell a home. If you are contemplating who to go with, you should strongly consider Tammy as she was great to work with and she accomplished what she set out to do....sell our home."
Braden Hafner (Edmonton) – Seller
"Tammy was very highly recommended by friends who used you to sell their home. We met with a couple of other realtors but chose Tammy as she were very approachable, friendly, and very informative. We felt at ease with her and not pressured. Also my dogs took to her, animals usually have a good instinct. Tammy provided recommendations and advise which resulted in our house selling quickly. I would definitely recommend Tammy to anyone, she offers a wealth of knowledge and resource. Never once did I feel pressured to do something I didn't want to do. Tammy made the process of selling and buying an easy one and she always went the extra mile. I am more than satisfied with the service Tammy gave us and if I ever need a realtor again Tammy is who I will call."
Darlene and Rob (Sherwood Park) – Sold & Bought
"Tammy, just want to thank you again for all your help. You are a very professional, a wonderfully cheery person to work with. I will recommend you to anyone I know. "
John Sinosich (Edmonton) Seller
"I am a first time home buyer and I would strongly recommend Tammy and Jessica to any buyer/seller. I feel that Tammy and Jessica went above and beyond to help make me feel comfortable with the whole buying process. I was very nervous with the buying a home for the first time, but day one of meeting Jessica and Tammy. I knew I made the right choice in realtors. I wouldn't of changed a thing about my buying experience! Thanks again for making this whole process a breeze, I appreciate every bit of help you gave me."
Kyle Toner (Stony Plain) Seller
"Working with Tammy Booth with our sale and purchase was an absolute pleasure. We had chosen to work with Tammy because we have heard many good things about her as a realtor. And selling with 2% Realty makes so much sense! Not having to pay out huge amounts of commissions, made our moving expenses much more manageable. Tammy always provided us with reliable information and was extremely patient with us through the selling and buying process, always making sure all our questions and concerns were answer to make us feel comfortable. We feel that we have found our forever home thanks to all Tammy's help and expertise. We definitely would recommend Tammy to anyone seeking a down to earth, professional, and honest realtor."
Chris & Brittney Everingham Seller (Edmonton) & Buyer (Beaumont)
"I had heard through a co-worker that they used 2% Realty Pro and they found the service to be excellent, and not having to pay out huge amounts of commissions was a smart financial decision especially in our current uncertain economy. Tammy provided us with relevant and sound advice throughout the entire selling process. Not only did enjoy the selling experience but also learned a lot about the housing market and the selling/buying process. We were truly educated with the information Tammy provided us. If someone wasn't sure about 2% Realty, I would simply say - " If you want to ensure an informative, and satisfying experience with an professional and dedicated agent then call Tammy. I promise you will be extremely pleased!" Working with Tammy Booth was a no brainier."
JOHN Yule (Edmonton)- Seller
"We contacted Tammy originally because we saw a sold sign of hers in the next neighborhood. We had never hear of 2% Realty Pro before. After meeting with Tammy we were confident that her and the commission structure was the way we wanted to sell our home. Tammy was very informative and always quick to respond. We had many viewings and sold quiet well within average days on market. We were delighted with Tammy's work and best of all the sale price and savings on the amount of commissions. I have already recommended Tammy to our neighbor. "
Steven & Janet Hehr (Spruce Grove) – Seller
"Tammy was knowledgeable, well-prepared and accessible during the home buying process. She made me feel comfortable and supported while making important decisions. I would highly recommend her services to anyone looking to buy a new home or property."
Karissa Zeleny (Edmonton) - Buyer
"You were the realtor on a property we wanted to see and you went out of your way to find us homes to look at very last minute. You were great to deal with and I would recommend you to anyone I knew that was looking to buy or sell a home. "
Katie & Craig MacSween (Edmonton) - Buyer
"When we decided to sell our home we specifically used Tammy Booth because of her reputation in our neighborhood. Tammy provided excellent customer service and had a great knowledge of the current market. Tammy was always quick to respond to all our questions and needs, she showed she actually cared about her clients and was willing to work to our benefit. Our house sold in a reasonable time frame and Tammy's negotiating skills were spectacular. "John Long
John & Colleen Long – Seller (Fort Saskatchewan) Buyer (Sherwood Park)